Let's start a conversation!
CityPost cable railing is the beautiful, durable solution to taking your deck, patio, or loft to the next level. CityPost elevates your home without the hassles of constant cleaning and maintenance — because you deserve to relax and enjoy unobstructed views.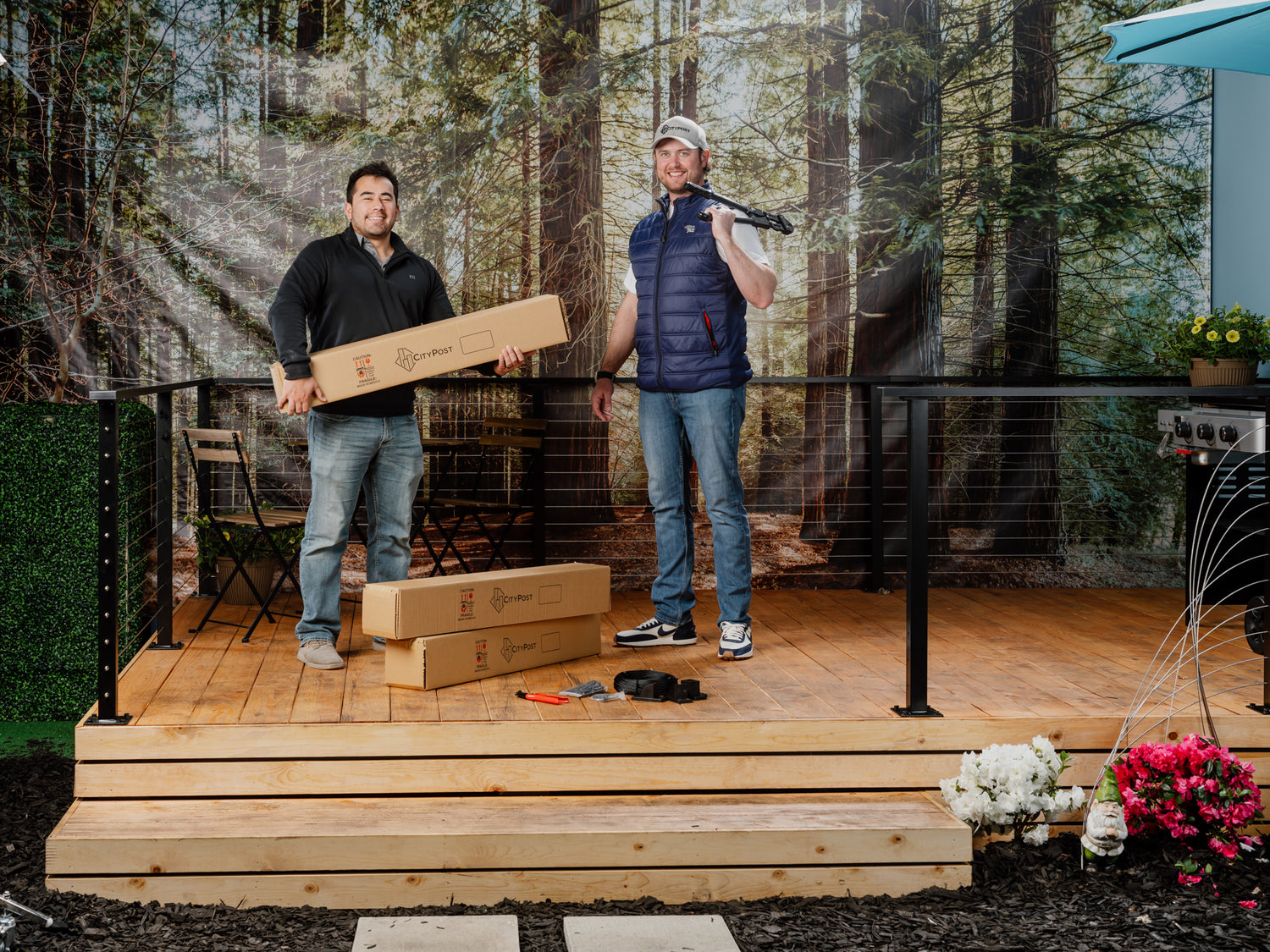 Our Story
CityPost was developed with 3 friends with a passion for building better, more efficient solutions. 
After a frustrating experience looking for cable railing for a personal home renovation, they knew there had to be a better solution for simpler, more affordable cable railing. So, they made one!
By optimizing the design of a single post to fit with their patent pending bracket, the trio created a simple cable railing system that can be easily installed by anyone without ever cutting a post or using expensive hardware. Soon after installing their innovative solution in their own homes, they created CityPost so savvy homeowners like you can have the high-end look of cable railing, without the high-end cost, in your home, too.
Frequently Asked Questions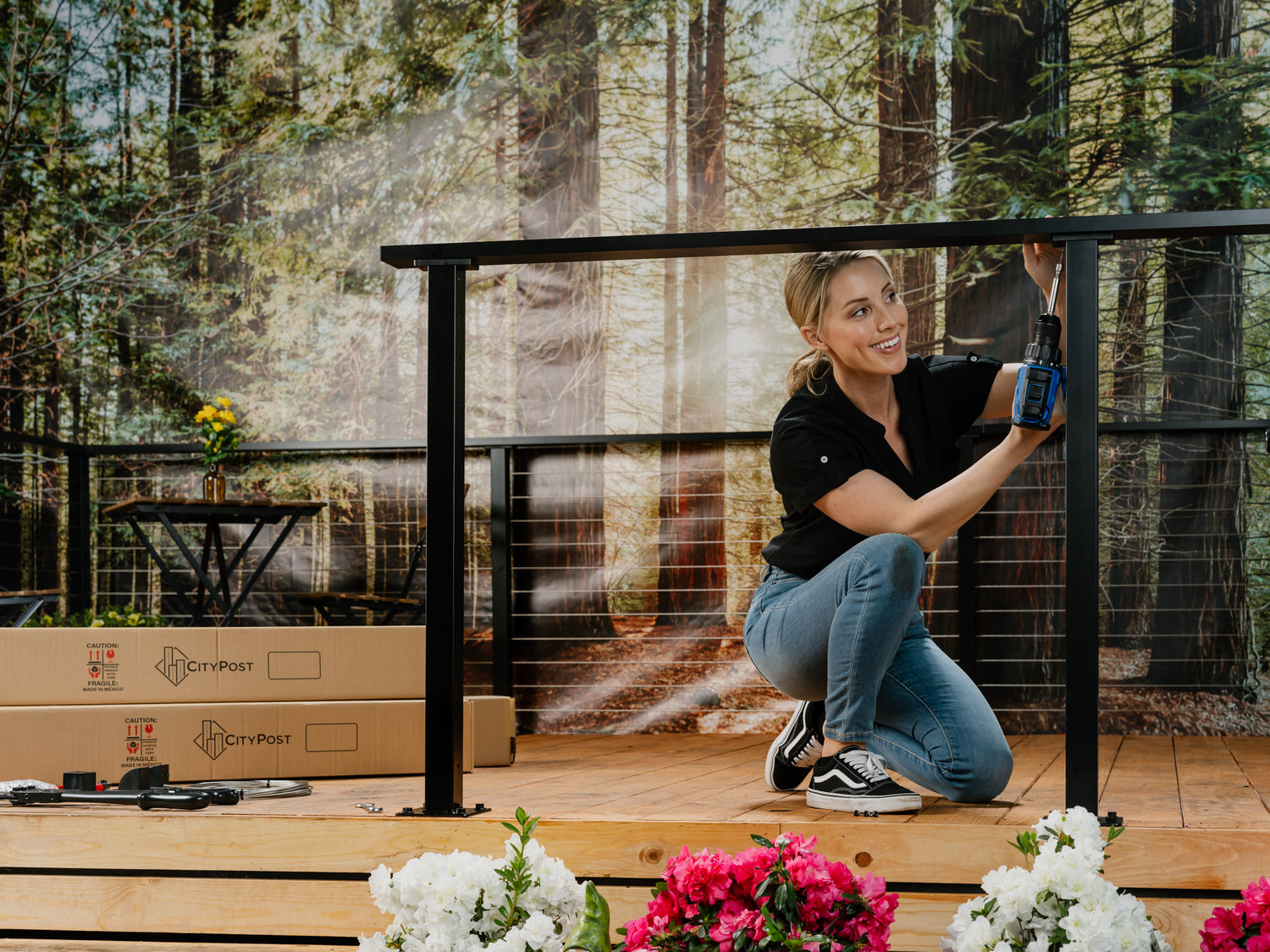 Where does CityPost ship to?

We ship to all 50 states, and our rate is based on the number of lineal feet ordered and the distance from our warehouse (in Washington state) to your state.
How do I order a CityPost railing system?

Simply input your segments into our easy online ordering system OR send us a sketch of your project to "orders@citypost.com" and one of our salesmen will reach back out to you within 24 hours with your quote. You can always reach us by phone as well at 855-GET-CITY and we'll be happy to chat with you about your project and make sure you have full confidence to take this project on!
Does the system come with everything I need?

Yes, the CityPost cable railing system comes with 100% of everything you'll need for your job. From posts & fasteners, to cable and cable hardware, we've got you covered. In addition, the CityPost system comes with a powder coated aluminum top rail to match the posts along with transition pieces for corners to hide your cuts and join the top rail together. We even include the tools with every order when ordered from CityPost directly or one of our lumber store partners.

What tools do I need to install the system?

To install CityPost cable railing you'll need a stainless steel cable cutter and a hand swaging tool to crimp the end-fittings to the cable. These tools are provided by CityPost for a $100 charge that you'll see at check out. In addition to the tools provided by CityPost, you'll also need a hand drill and several drill bits (see installation instructions for sizes based on the type of post that you're installing). 
What are the color options?

We offer 4 stock colors at no extra cost: Black, White, Gray, and Bronze. For custom colors, please reach out to us at "orders@citypost.com" and we'll be happy to discuss your project in detail.
How tall are the posts?

CityPost offers both 36" and 42" post options. You can order either height in base mounted (top down) or fascia mounted (around the front) to ensure that we've got everything you need to maximize your space and view.
Do you have any solutions face mounted or angled mounts?

Yes we can provide face/fascia mounted solutions most easily but we also have solutions for mounting to the top of stair stringers. Our fabrication team can work with almost any situation.
How far apart are the posts?

Posts are designed to be placed on 6' centers to maximize support for the top-rail.
Do you leave extra length on the cable?

Yes, every order comes with 10% additional cable to ensure you've got plenty of materials to make any potential adjustments in the field during install.
Does the CityPost cable railing system come with top rail?

Yes! The CityPost system comes with 1"x3" powder coated aluminum top rail. Please send a drawing/layout of your projects to "orders@citypost.com" once you place your order and we will make sure you get all of the right top rail components based on that drawing! If you have any questions feel free to reach out to our customer support team at 855-GET-CITY and we will be happy to help!